Garam, Tafa LGA, Niger State
Formation House and Centre of the Nigerian Mission
Garam, Tafa LGA, Niger State
Postal address: P.O.Box 152, Bwari, Abuja FCT
e-mail: phjcnigeria@yahoo.com

In Garam, formation takes place for our young members.
Besides that, the Sisters conduct a mobile clinic for the villages belonging to our parish, and they also reach out to other villages where there is a need for health care. One day a week per village, the team of nurses goes out to see the people who need help. They provide consultation and medicine, and also help people with referral to hospitals or doctors if there is such a need. Often, people also come to our house at night when there is a health problem.

Mobile clinics often take place in the station churches


The ambulance house next to the formation house
Because in villages in the bush, it is very difficult for the smaller children to reach one of the schools, we started a pre-school in Azhin Khasa with about 120 children. By now the school has reached the 6th class and has been registered by the government.
'Lions Club Westerwald' supports the school by donating money for a school bus. This helps to bring the children from other villages and even as far as Bwari. There are requests now to build up a boarding school as the roads are so bad, especially since the building of the railway project which passes close to Azhin Kasa.
Sisters teach catechism in Garam and in Gyedna, in that way enabling the catechists to also reach out to other villages in our big parish.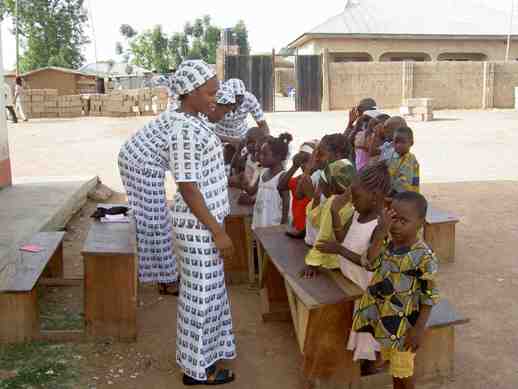 With the help of sponsors in Germany and in America, we were able to build boreholes in several villages which had no access to clean water. There is more need for that in other villages.
We started a self-help group for Widows in Garam – it is now St. Felicitas Society Catholic Church, Garam.
Again the sisters held a course for girls who had had no chance to go to school. On Saturdays, the sisters taught those girls. There was also practical teaching how to earn a little money. This time the girls learned how to embellish the plastic sandals most people wear here. They also studied how to sew and how to cook simple meals.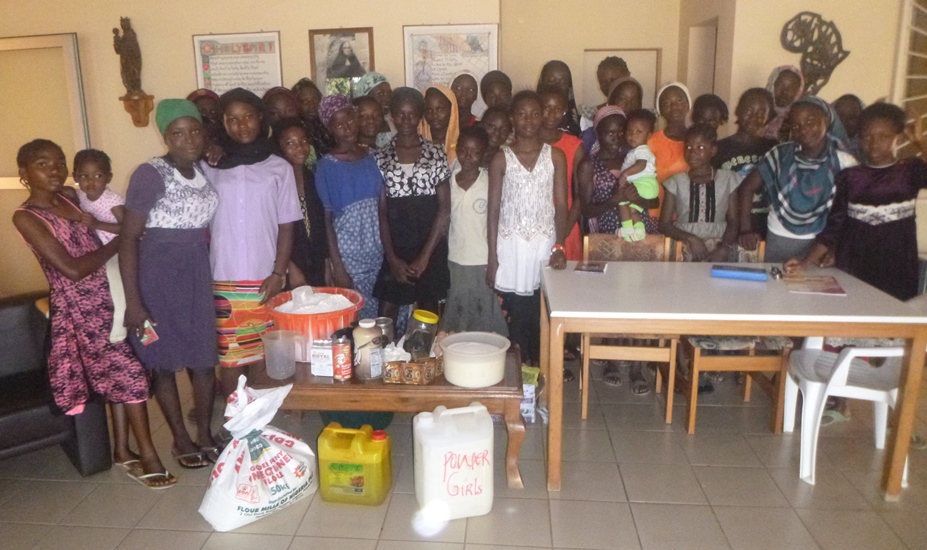 In August every year, our children from the Angel Guardian Home in Mgbele come to spend some time with us. They all enjoy the days in the centre of the congregation, and it is a good practice for the novices and the postulants to care for our children and to give them a special time during vacation.