Finally, after many quite hard times, we could start the project to work against female genital mutilation in Nigeria in October. A team of 30 women and 30 young men have started their training, so that they can then go into the villages belonging to one county in the South-East to talk to the village meetings, the men and the women to make them see how harmful and dangerous this tradition is, and to monitor that the so-called "cutting" is no longer done.
---
The number of students in Ifon Ilobu is growing steadily and Srs. Salem and Benedicta can work quite well in our newest and small school.
---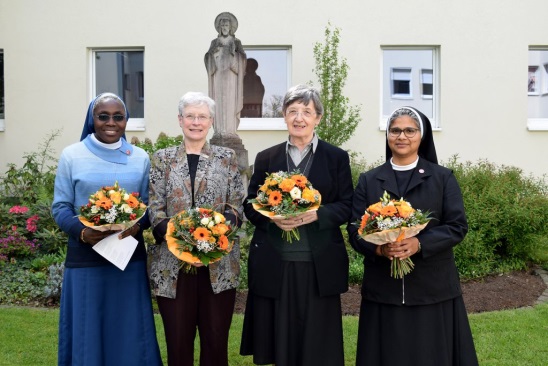 During the General Chapter in May 2019 our new General Leadership was elected. For Nigeria, we are especially happy with Srs. Annemarie and Jacqueline, since both of them know African conditions. We wish the whole team God's richest blessings. They will begin their office August 3rd, 2019.

A new letter to the benefactors of our mission is being mailed at the beginning of July 2019. You can download it here.
---
January 2019
From the beginning, we have a mobile clinic in Ibokun besides the domestic school in this convent. Sr. Irene is working there as a nurse and now often goes to a camp in this little town far down in the Nigerian southwest. Refugees from the north, who had to flee after their villages have been burnt by Boko Haram, get no help from anyone except the Catholic church. The priest goes there to look after the people, and Sr. Irene goes there to care for the sick. She just found a pregnant woman in a very bad state and took her to hospital, hoping that she can get help. The refugees need about everything: food, clothes, shelter – and above all a loving and welcoming heart.