In November 2013, for the first time, all professed Sisters of the Pro-Region met in Garam Central House for a three day meeting, discussing matters of interest to all of us. This was also a kind of preparation for our coming Chapter in February 2014.
---
Together with a Romanian sister, Sr. Chika and Sr. Eliza professed their final vows in Dernbach, the center of our congregation, in November 2013.
---
Sr. Kelechi is enjoying a course for the training of novitiate leadership and direction in Chem Chemi Institute in Nairobi. We expect her back in May of 2014.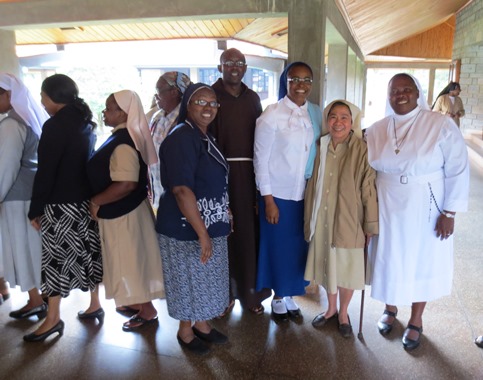 ---
This year we could again harvest our cassava, and the sisters were busy preparing abacha out of it. This is a lot of work, but with cooperation, it moves fairly fast, and the dried abacha helps us with preparing good and nourishing suppers.
---
Slowly people in Nigeria also come to support us. In June 2013, several groups of women and students have been to our home for the children with gifts, and they all enjoyed their visits – as did our children.
---
All of our babies that we took into the home a year and a half ago, are doing very well. Three of them are going to Nursery School. You see them in their uniforms. The weakest who was almost dying when we got her, Chisimdiri, cannot walk yet. (She is the one without uniform). The malnutrition affected her muscles, but she is getting better too. In Germany, her navel hernia was operated on, and she got special shoes which will help her to walk.
She spent four weeks in the congregations hospital in Wesseling where the doctors and nurses all loved her. She even learnt some words of German, like "schlaf gut" (sleep well) and "danke schön"(thank you).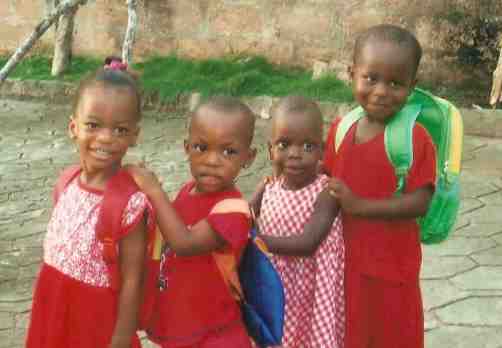 ---
During June, five of our sisters renewed their temporary vows. This is always a happy get-together.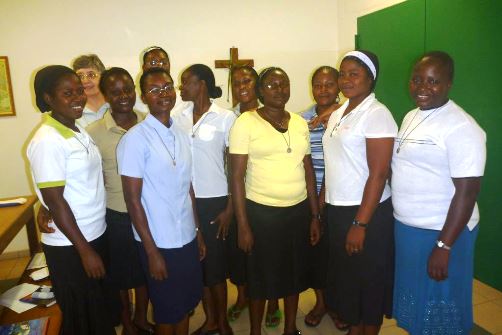 ---
At the beginning of this year, another maltreated and speechless little girl was brought to us. She must be about 8 years of age, and the sisters called her Chiomaka. Look at her back which shows how badly she was treated. She is still very much afraid of beatings, when she sees a stick, she will cry. But at the end of May, she was baptized, and she seems a much happier child now. We hope she will learn to speak soon.
---
On March 24th, 2013 one postulant was received into noviciate, she is now Sr. Josephine, and 10 young women were accepted as postulants in the community.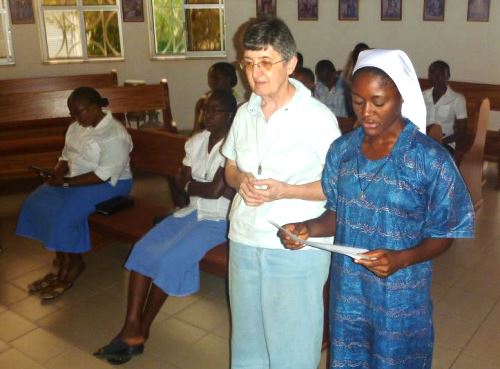 ---
March 19th, 2013 four young women professed their temporary vows in the Congregation, with many friends and family members and the community in Nigeria. It was a joyful feast. Srs. Mayfred, Felicia, Anthonia and Christiana were well prepared and will now go on in their different ministries.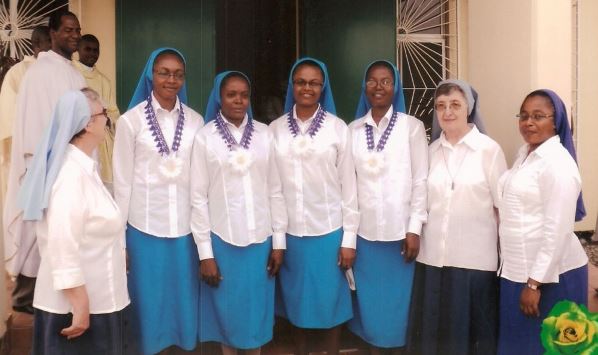 ---
Joann, our oldest girl in the Child Care in Mgbele, was successful in her WAEC and JAMB and had her Matriculation to Alvan University in Owerri mid-February 2013. She celebrated with some of the sisters and with some of the younger children from the home. All were very happy. Sr. Perpetua, who is also a student in Alvan, will take care that Joann can start her studies well.