December 2014 – Yetunde has had the first series of surgeries in Germany, and thank God can now walk at least with the help of crutches. More surgeries will have to follow in January but there is hope that she can go back home around May 2015, walking like any other girl of by then 10 years.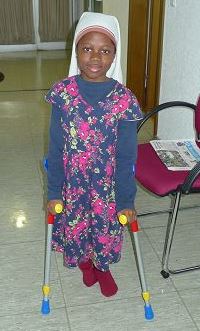 ---
August 16, 2014 – In a beautiful celebration, the two German sisters were given a send-off from Nigeria. All the children from Mgbele were present, and each local community had prepared some program. The sisters left August 20.
---
The extension to the Child Care Home in Mgbele was finished in August. A bungalow with room for 6-8 handicapped adults or youths was finished. The challenged children we have in the home now, can stay there for life once they get too big to be in the same house with small children.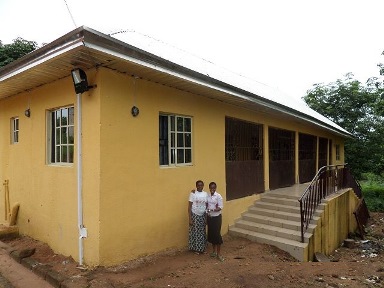 ---
On July 30, 2014, the two domestic trainees, Ceclia and Rosemary from Garam, finished their one year training with very good results. Ceclia has found a good job as a housekeeper, and Rosemary is about to start her own family and household.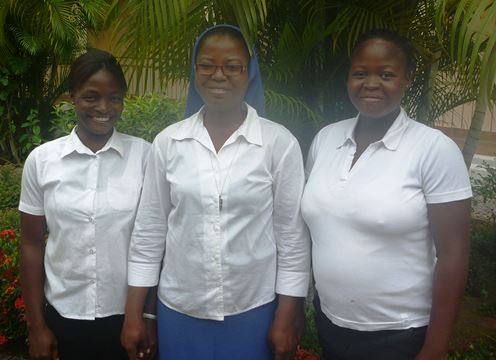 ---
During June and July 2014, several poor children came to our attention, some brought by village chiefs, some just found.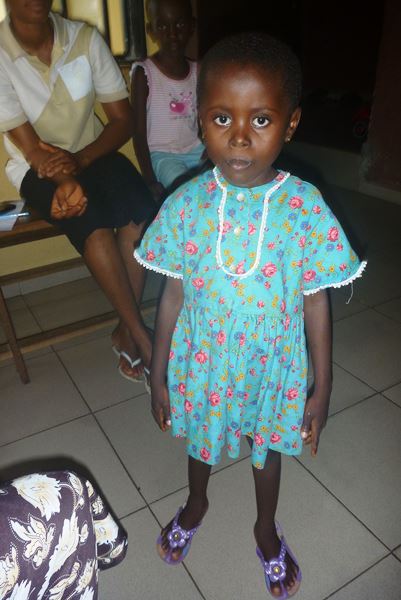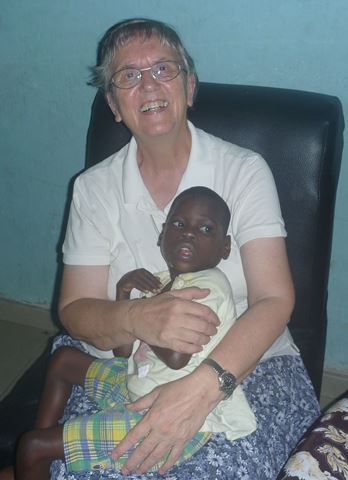 And worst of all, Yetunde, a girl of 9 years who fell into the fire when a baby, no medical treatment, horribly contracted and unable to walk.
We try to find help for all of them, and above all, show them love and care.

---
On June 23rd, 2014, in the presence of Bishop Martin of Minna, three of our novices professed first vows in the presence of new leadership and many of our sisters as well as relatives and friends of the newly professed. Their names are Sr. Eugenia, Sr. Immaculata and Sr. Martha.
On the same evening, during Vespers, five sisters renewed their temporary vows.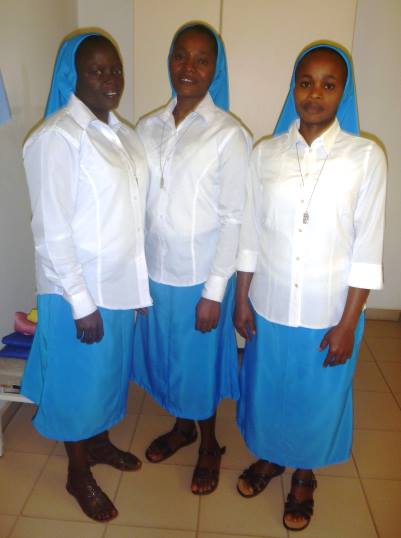 ---
On June 15th, seven new novices could be accepted into formation in Garam.

Sr. Kelechi is their novice directress as she has been appointed to follow Sr. Petricia. We pray for God's blessings on them.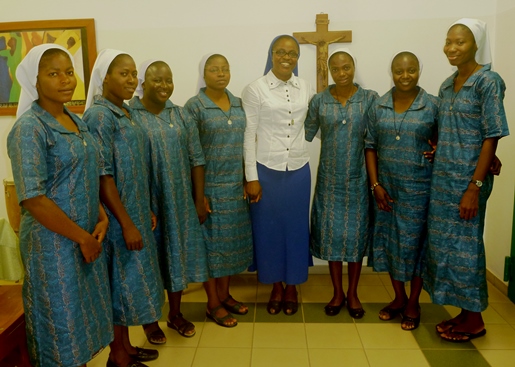 ---
In Evening Prayer on Pentecost Sunday, the newly appointed leadership group for the Pro-Region Nigeria, Srs. Scholastica Okorie, Kelechi Ifoegbu and Agatha Onwudi, were officially installed in office. Members of each local community were present. Sr. Chimebere was appointed Treasurer for the Pro-Region.
In spite of all the unrest and terror in Nigeria, we hope and pray for a good and fruitful time of growth and development.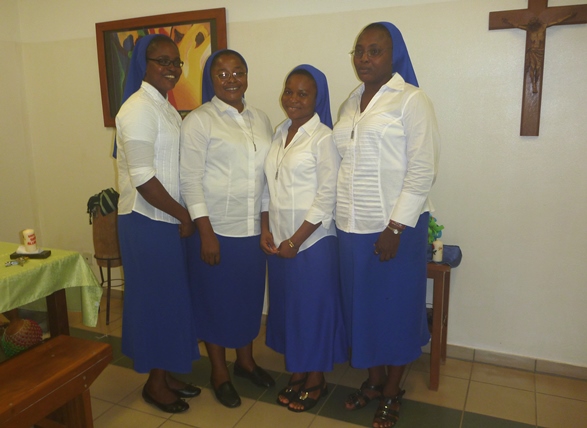 ---
In Osobodo parish, our main parish for Mgbele, our first child Ngozi now finally was admitted to her first holy communion. She was so happy, and all the others with her.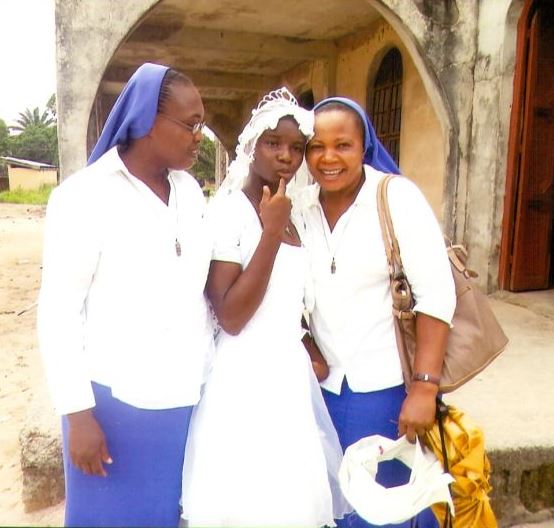 ---
On March 30, we had the joy of accepting six young women as postulants into the Congregation. All six are from different tribes. They have been living with us as aspirants for varying times, but now all six decided to start initial formation. We wish them God's blessings.
The picture shows them together with Sr Scholastica Okorie, a member of the Pro-Regional Council, and Sr. Petricia Pitzl, the Formation Mistress and also a member of the Pro-Regional Council.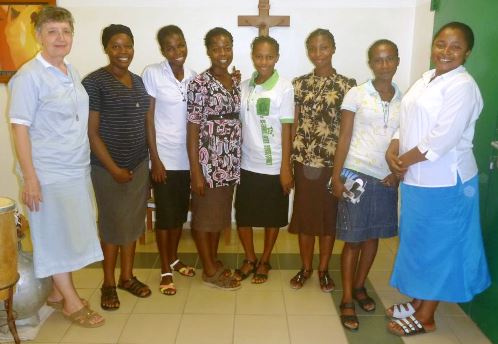 ---
From February 12th to 18th, 2014, we held the second Pro-Regional Chapter in Garam, discussing the present and possible future ministries and the many proposals the sisters had submitted.
At the end of Chapter, Sr. Gonzalo, General Superior, announced the new leadership group for the Pro-Region. They will take office about three months after the end of chapter, taking over from Srs. Christeta, Petricia and Scholastica. Sr. Scholastica will then be the new Pro-Regional Superior, supported by Srs. Kelechi and Agatha.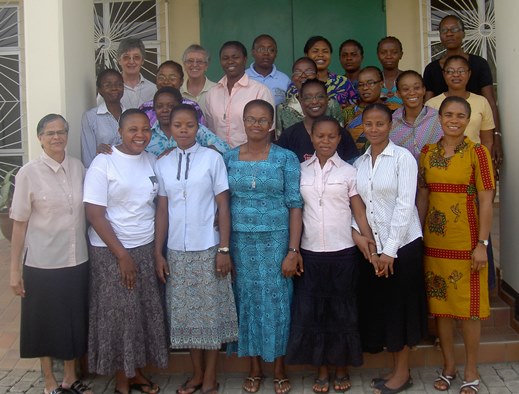 ---
January 2014: For the first time, all members of General Leadership visited the Pro-Region Nigeria and stayed for just over six weeks, getting to know all the ministries and all the sisters and also participating and chairing our Pro-Regional Chapter. The picture shows (from left to right) Srs. Shirley, Barbara and Annemarie who are General Councillors, and Sr. Gonzalo, the General Superior.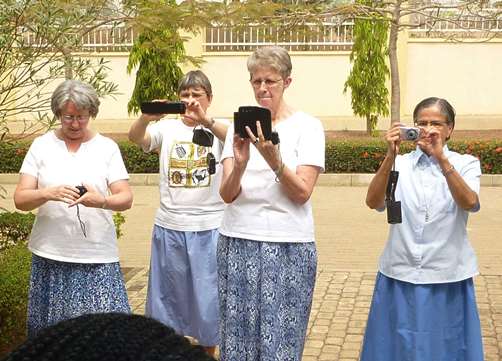 ---
As primary authority for our Pro-Region passed from the founding province Germany to the General Leadership, Sr. Simone, Provincial, came for a fare-well visit from December 28th, 2013 to January 18th, 2014.

We are grateful for all the help we received and thank all the German sisters.